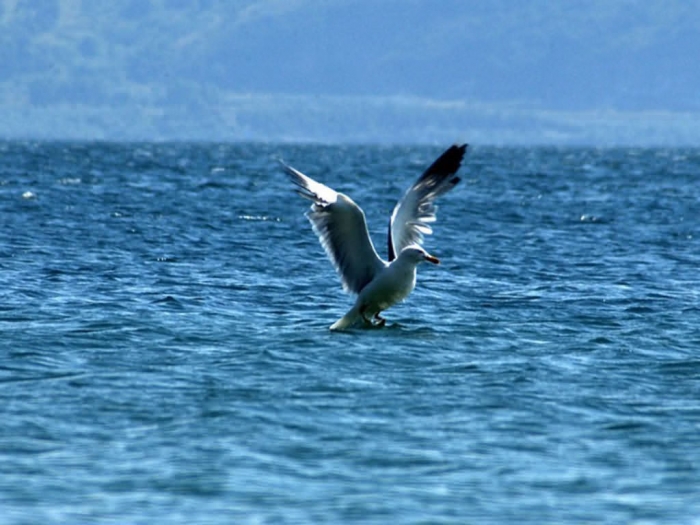 Lake Sevan is located in the region of Gegharkunik. It is one of the highest sweet-water lakes in the world with 19,000 meters high from the sea-level. The lake occupies an area that makes 5% of the whole of the territory of Armenia. Hrazdan is the only river flowing out from Lake Sevan, with overall 90% of Sevan waters remaining in the basin. It has significant economic, cultural, and recreational value. Its only island (now a peninsula) is home to a medieval monastery.
Sevan waters were exploited to irrigate the Ararat plain which is the main supplier of fruit and vegetables in Armenia. Another way Sevan Lake was exploited was the construction of hydroelectric power generation since the 1930s. As a result, the level fell to 40 % which is 20 meters lower than the initial level. Later two underground tunnels were built to divert waters from highland rivers, which helped its level to rise.
Nowadays the lake Sevan makes 5% of Armenia's surface. On a clear and sunny day, the water is often a deep turquoise color. Maxim Gorky once said about the waters that they were like a piece of the sky that had descended to the earth among the mountains. The shores are white sand and most beaches are uncrowded. The monastery peninsula (called the island in Armenian) is the most popular spot and is the closest place to visit as well. The water is about 18-22 Celsius in the summer, a very refreshing swim after a hot week in Yerevan. It is a freshwater lake, so you do not have any salt residue after swimming. There are fish in the lake, however, there has been a ban on commercial fishing (without authorization) in recent years. For this reason, it is not uncommon to see men standing along the main road signaling cars by hand the supposed length of the fish they sell. To put these fish on display would mean calling the attention of unwanted authorities.
On the peninsula, there is the monastery of Sevanavank, consisting of two rather rough churches. It is worthwhile to climb up the many stairs for the view and the green khachkars. They were carved from a plentiful local green stone and stood out from the others which are all made of tuffa.
back to top