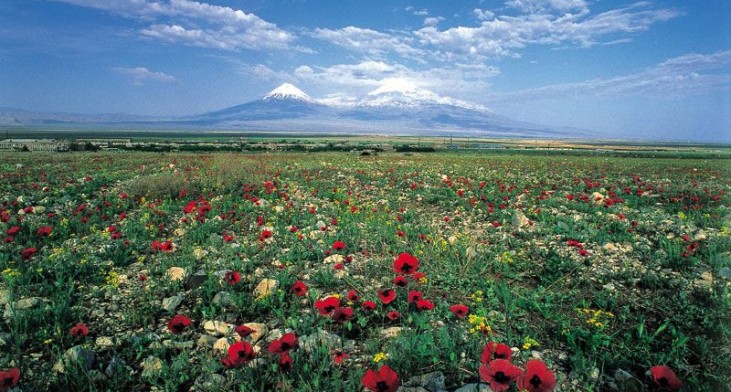 Nowadays the Republic of Armenia is a part of the Armenian Highland located between highlands of Asia Minor and Iran. Armenian Highland has an average height above sea level 1500-1800 meters and higher than in neighboring Asia Minor and the Iranian plateau.
Due to its high position as compared with the surrounding counties Armenia and the Armenian Highland is called a mountainous island. The mountain range that is called Armenian Dance separates the plateau into northern and southern parts. Armenian Dance Mountain Range starts with the Biblical Mount Ararat from the east with the highest pick of Greater Ararat 5165 meters high.
Aragats Mount (4090m) lies on the Nothern part of the Ararat valley with its slopes rich in waters, vegetation and farming, breeding centers from ancient times. The Armenian Highland is one of the largest and most fertile fields.
Armenia is rich in big and small lakes. Lake Sevan (ancient name Geghama sea, the sea of Gegharkunik) is one of the world's largest high-altitude lakes. It has a fresh and Fishy (trout, trout, Gegharkunik) water. Armenia has mountainous steppe, semi-desert, high rocky mountains, grasslands, temperate forests, sub-alpine meadows, lush valleys, lakes and rivers as well as old oak forests.
The landscape in Armenia is highly diverse due to its mountainous nature. The variations are observed in geological substrate, terrain, climate, soils and water resources.
There is an incredible variety of habitats on the landscape, that in their turn result in distinctive flora and fauna.
Fauna in Armenia is diverse given the country's relatively small geographic size, owing to the varied habitats created by the area's mountainous terrain. Armenia is an important area for migratory animals, about 350 different bird species were recorded in the country. Many of the world's domesticated animals originated in or near Armenia, and the mouflon, the ancestor of domesticated sheep, is present there. Research suggests that about a quarter of the animal species in Armenia are internationally endangered. The mouflon is suffering a great population decline due to poaching and habitat loss, and the Sevan trout, which once made up thirty percent of the fish in Lake Sevan, have virtually disappeared.
On the territory of Armenia, which is 29,743 km2 there grows more than 3200 varieties of plants, 120 out of which grow only in the territory of Armenia. Even many varieties have Armenian names.
The fauna is also very diverse with about 12 000 species and many of them can only be found in Armenia.
In Armenia you will live in the past and present living side by side with far rural places and modern cities, Pagan sanctuaries and ancient Christian temples, powerful creations of medieval architects. Anywhere you go, a village or a city, you will always find yourself in an open air museum.
back to top