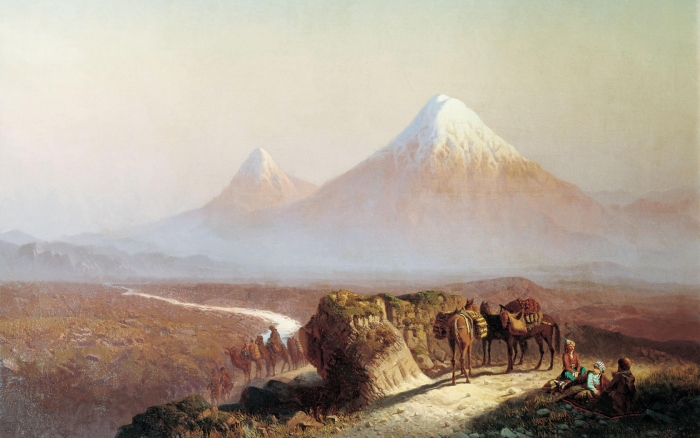 The role of the Mount Ararat in Armenian culture goes back to times when Noah's ark landed on the slope of the mount after the waters of the flooded had receded. The holy city of Etchmiadzin houses a piece of Noah's ark nowadays that is visited by a huge flow of tourists to see the holy relic. The seat of the Armenian Church maintains that relic in accordance with the tradition of St. James of Nisibis and his climb and acquisition of it. Ararat valley has been the arena of battles that shaped today's Armenian Government and has been home to numerous Armenian capitals.
There are a few highly recognizable national symbols within all Armenians, and Mount Ararat is on the top of the list. Many paintings, souvenirs and places bear in the Mount Ararat with Armenians even managing somehow to build houses with a view of the mount. The bigger Ararat, also called Masis, is 5,165 meters high from the sea-level.
The first registered climb up Mount Ararat took place in 1829, headed by an exhibition team of German scholar Friedrich Parrot, that was accompanied by a western-educated Armenian writer KhachaturAbovyan. KhachturAbovyan was noted for his work in developing modern Armenian language.
What makes Mount Ararat such a potent symbol for Armenians today is the fact that it is in Turkish territory – just across the border that was set by the Treaty of Kars of 1921 – but almost always dominating the skyline of the capital Yerevan. At the same time, an increasing number of groups including Armenians have participated in climbs up Mount Ararat in recent years. Meanwhile, the highest peak in the Republic of Armenia today – also very much a part of the view of the horizon of the capital – is Mount Aragats. That mountain actually consists of a volcanic cone surrounded by four peaks, the highest one at 4,090 metres or 13,418 feet.
back to top