Best Western Aghveran Hotel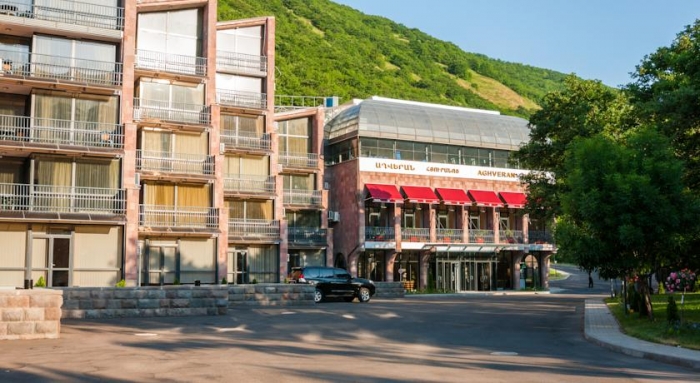 The high-class Best Western Aghveran hotel is located 40 km far away from Yerevan, on the left bank of Dalar river occupying 6 hectare forest territory beneath the Tsakhquniats mountain chain. The rich nature and fresh air a year round will guarantee a fully enjoyable rest here.
Best Western Aghveran Hotel is a modern rest-complex. The main building - with rest and entertainment zones as well as seven inter-connected buildings, includes 56 comfortable guestrooms: SNGL, DBL, Deluxe, Luxe, Family, Duplex. All rooms have open terraces facing beautiful landscapes.
---
Room Services:

Cable or satellite television, CNN® or other 24-hour news station in guest room
AM/FM alarm clock
Coffee/tea maker, available upon request
Refrigerator
Hairdryer
Iron, ironing board, available upon request
Desk/work area, electrical outlet at desk
High-speed Internet access
Direct dial telephone
Speaker phone
Voice mail
Free local calls
Bathrobe
Room service 24 hours
Air-conditioning
In-room safe
Wake-up calls
Turndown service, per request
Sofabed available
Spa available
Adjoining rooms available
Crib available
Bidet available
Balcony available, three rooms do not have balconies
Mountain view available
Forest view available

Hotel Services:

Wireless internet connection
Indoor pool, heated
Outdoor pool
Steam room
Massage services
Tanning
Aerobics instructor
Locker room
24-hour front desk
Concierge
Porterage/bell services
Guest laundry, hours 10:00 a.m. to 8:00 p.m., nominal fee
Shoe shine
Barber/beauty shop, per request
Playground
Babysitting on request
Cable or satellite television
Business center, hours 9:00 a.m. to 11:00 p.m., free, staffed
Conference services
Banking, cash machine/ATM
Tennis courts
Billiards/snooker
Bowling
Table tennis/ping pong
Physically challenged services
Free parking
Storage space
Barbeque grills for guests
Electrical adapters/telephone jack adapters/power converters for international guests
Free newspaper in the lobby bar
Technical concierge available
Motor coach parking