St. Mesrop Mashtots Church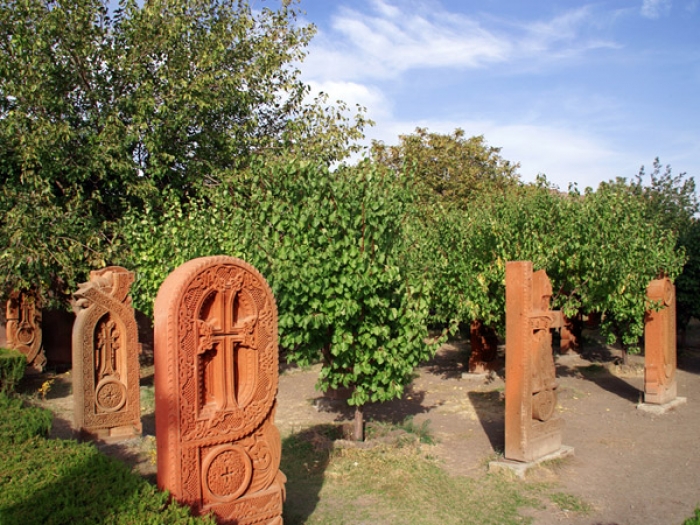 St. Mesrop Mashtots; the distinguished, multi-talented and noble (of noble birth) scholar, Holy Father and military leader, (in the spirit of Military-Monastic Order) Christian preacher and missionary, revivalist of the lost Armenian alphabet. The establisher and the beginner of the Golden Age of Armenian Literature. Founder of new educational institutions throughout Armenia. For his great deeds and accomplishments canonized by the Holy Apostolic Church of Armenia. One of his talented students and followers was Koryun, who later on by the directions of the Church of Armenia wrote and recorded the life and work of St. Mesrop.
St. Mesrop Mashtots church is in the village of Oshakan in Aragatsotn Region. Mesrop Mashtots was buried there by the wishes of the prince Amatuni. On this grave a small circular church in 442 was constructed. There is information that Mesrop Mashtots established a school in Oshakan. Oshakan with its fruit-bearing gardens was one of the most famous villages of Armenia.
Later the hall in the church built by the Catholicos Gevorg IV during the 1875-1879. There is a grave of Mesrop Mashtots under the altar of this church. The church was covered with the icons in the 1960 by H.Minasyan. In the 1884 a bell two-story high, was sanctioned on the eastern side, an original undertaking in Armenian architecture. There is a church of St.Sion built in the 7th century, with pink smooth shaved tuff on the northeastern side of Oshakan at a place known as Mankanots.
back to top