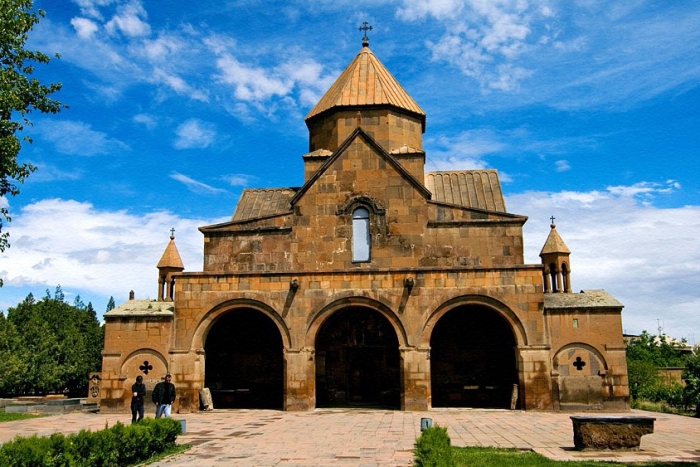 Saint Gayane church built in Vagharshapat town is a walking distance from Etchmiadzin Cathedral. The 10th-century Armenian historian CatholicosHovhannesDraskhankertsi states, that St. Gayanei Church was founded by CatholicosYezr between 630 and 641.
On the site of the church, the Virgin Gayaneh was martyred by the order of the pagan Armenian King Trdat III. Later renovation has been carried out the 17th century during which a agallery was added next to façade. It is a basilica-type church with a central nave and two aisles and crowned at the center of a dome. St. Gayane is one of the earliest examples of this synthesis by Armenian architects of the three-aisle basilica-type church built in Armenia in earlier centuries and the central-plan church which later became widespread there.
According to the fifth-century Armenian historian Agatangelos, Gayaneh was one of the virgins who came with other nuns from Rome to Armenia to escape the forced marriage with the pagan Roman emperor Diocletian. Gayaneh also rejected king Trdat of Armenia for which she was put to death in the place of the St. Gayaneh church is standing now.
back to top