Noy Wine Brandy Vodka Factory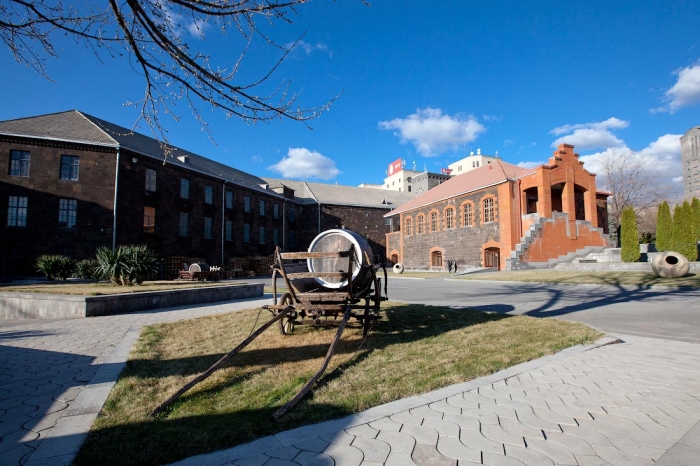 Yerevan Noy Wine Factory, officially known as Yerevan Noy Brandy-Wine-Vodka Factory or simply "Noy", is an alcoholic drinks production company in Yerevan, Armenia. It was founded in 1877 during the rule of the Russian Empire. The factory is located on the left bank of Hrazdan river in the heart of Yerevan, occupying the area of the historic great Yerevan Fortress.
Nerses Tairyan was a well-known merchant and philanthropist. In 1877 he started industrial production of wine, in 1887 - of brandy at the territory of the former Erivan Fortress. Hovhannes Aivazovsky, who was a relative of Tairyan, helped him to build the factory. Yerevan Wine Factory was built in 1938 on the site of the former sardar palace. The building was designed by architect Rafael Israelyan.
In 2002, the factory entered Multi Group Concern. Some 50 million USD were invested into restoration and constructions, acquisition of new bottling line and oak barrels. A number of recipes and technologies were restored by crumbs. With the help of old papers, museum exhibits, family archives, specialists and technologists of the factory assembled and classified the whole invaluable experience, accumulated throughout the period of plant's functioning, and, consequently, the lost and forgotten glorious name of Armenian Brandy was restored.
back to top