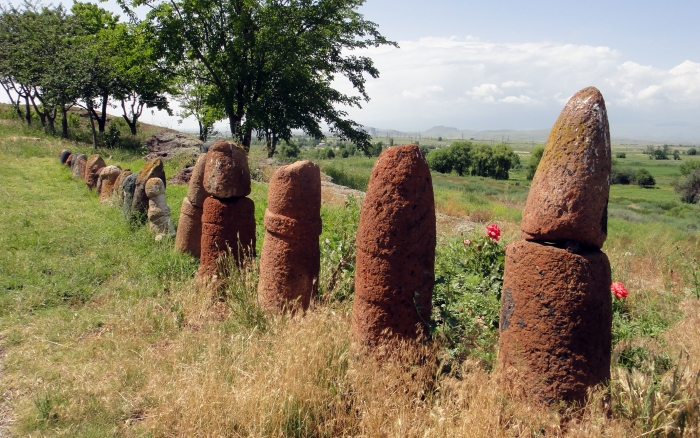 Located just outside the village of Taronik, Metsamor (which means "black swamp" or "black quicksand") is a working excavation and museum on the site of an urban complex with a large metallurgical and astronomical center (occupied ca. 5000 BC-17th c. CE). The site occupies a volcanic hill and surrounding area.
The citadel on top of the volcanic hill is about 10.5 hectares in size, but the entire city is believed to have covered 200 hectares at its greatest extent, housing up to 50,000 people (making it a huge metropolis in those days). Nearby spring-fed marshes and lakes suggest the extent of the wildlife that covered the area up to the bases of Mount Aragats and Ararat. The area was rich in water, mineral and hunting resources at the time of the development of Metsamor. The nearby Metsamor river provided both transportation and the first irrigation source recorded in Armenia.
Excavations have shown strata of occupancy going back to the Neolithic period (7,000-5,000 BC), but the most outstanding features of the site were constructed during the early, middle and late Bronze Ages (5000-2,000 BC). Inscriptions found within the excavation go back as far as the Neolithic period , and a sophisticated pictograph form of writing was developed as early as 2000-1800 BC. The "Metsamor Inscriptions" have a likeness to later scripts, which influenced Mashtots' alphabet (see Evolution of the Armenian Alphabet).
The excavation has uncovered a large metal industry, including a foundry with 2 kinds of blast furnaces (brick and in-ground). Metal processing at Metsamor was among the most sophisticated of its kind at that time: the foundry extracted and processed high-grade gold, copper, several types of bronze, manganese, zinc, strychnine, mercury and iron. Metsamor's processed metal was coveted by all nearby cultures, and found its way to Egypt, Central Asia and China. The iron smelting process was not advanced in Metsamor, probably due to the vast quantities of pure bronze alloys at hand, and Metsamor primarily mined and sold iron ore to neighboring cultures which took better advantage of its properties. One of the early examples of R&D not getting past the lab door. It is not until the Early Iron Age that Metsamor took full advantage of the high-grade iron ore it had been selling to others.
back to top