Tufenkian Old Dilijan Complex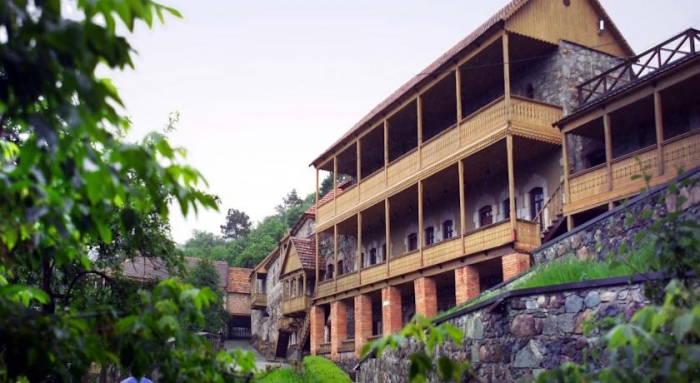 In the 1800s, the age-old Armenian city of Dilijan was known as a blossoming center of culture, commerce and cuisine. In order to enjoy the region's picturesque landscape, wealthy vacationers from Tbilisi, Baku and beyond, flocked to Dilijan in increasing numbers, paving way for the town's international culture.
In 2004, Tufenkian began restoring the historical district (Sharambeyan Street) of modern-day Dilijan, preserving the 19th century architecture which you can experience today. The intricately carved balconies typical of 19th century Dilijan display the region's historical love for fine woodwork.
---
Room Services:

Coffee and tea making machine
Flat screen TV
Satellite TV
Shower
Hairdryer
Antique furniture
Private balcony (some rooms)

Hotel Services:

19th century style Ananov Guest House with exceptional views of Dilijan
12 guestrooms and 2 Suites
Haykanoush Restaurant featuring Armenian cuisine
Tufenkian Bakery
Esayan museum featuring artifacts used in the economy and Dilijan lifestyle during 19th-20th century. In the museum you can also find handcrafted furniture typical for Dilijan lifestyle by the end of 19th century.
Wood workshop
Ceramic workshop
Art Gallery
Bookstore
Souvenir Shops