Khosrov Forest State Reserve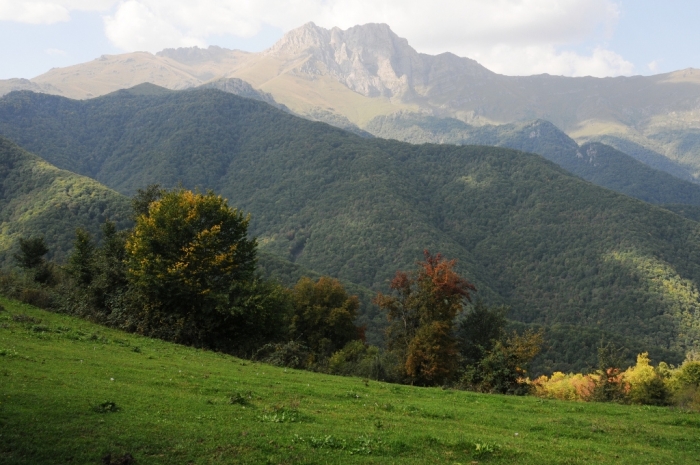 Back to the 4 century, the king Khosrov II proclaimed the southern slopes of the Geghama Chain of Mountains as a natural reserve. He afforested the area and turned it into a royal hunting site.
Throughout centuries, the reserve was mentioned in the history of Armenia as the hunting place of the noblemen. From other places, especially from Persia, thousands of pedigreed animals were brought to the reserve and bred.
1958 the Khosrov forest was officially established as a natural reserve. The reserve is located to the south of the Geghama Mountain Chain and to the north of the Urts and YeranosMountains, in the basin of the rivers Azat and Vedi. The Khosrove Reserve is about 23,000 hectares and 1400-2250 meters high from the sealevel with 9000 hectares covered with forests.
The Khosrov State Reserve has a rich flora with 1800 species of plants which forms more than 50% of the flora of the country with 146 species registered in Red Book.
The fauna is rich too. The reserve is home to 142 species of bird, 66 out of which is registered in the Red Book including Egyptian, Black and White Headed Vulture, Bearded Vulture, Golden and Pied Eagles as well as Northern Falcon.
There are 55 species of mammals, 18 out of which are listed in the Red Book. Among them are Transcaucasian Brown Bear, Boar, Wolf, Fox and many others. The reserve boasts in invertebrate animals, especially in a considerable number of unique insects.
The Khosrov State Reserve includes plenty of natural attractions; the giant ''symphony of stones, the mysterious caves, shadowy gorges and alpine meadows, ancient oak trees and unique flowers.
Thousands of historical landmarks, cave dwellings and early medieval monasteries, cross-stones, churches and fortress have still survived till nowadays.
back to top