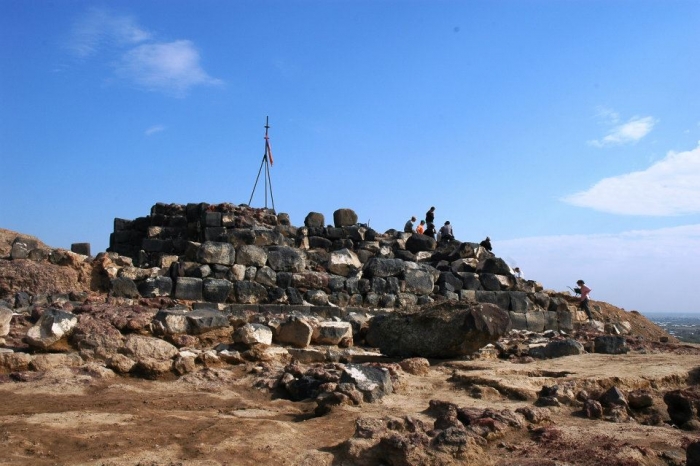 Armavir is one of the ancient capitals of Armenia that was a large commercial city located 1 km west of the 17th-century village of Armavir.The area of ancient Armavir was inhabited since the 6th millennium BC. Various obsidian instruments, bronze objects and pottery have been found from that period. Armavir was regarded as an ancient capital of Armenia, said to have been founded by King Aramais in 1980 BC.
During the first half of the 8th century BC, King Argishti I of Urartu built a fortress in the area and named it Argishtikhinili. In 331 BC, when Armenia under the Orontid Dynasty asserted its independence from the Achaemenid Empire, Armavir was chosen as the capital of Armenia. Slabs of clay have been found from the Achaemenid period written in the Elamite language concerning episodes of the Gilgamesh epic. Various inscriptions in Hellenistic Greek carved around the third century BC, have been found, including poetry from Hesiod, lines from Euripides, a list of Macedonian months, and names of Orontid Kings.
Various obsidian instruments, bronze objects and pottery have been found from that place. In the beginning, of IV BC, Argishtikhinili was awfully devastated. The signs of violence and fire can be easily seen. The town fell into decline, and the water-supply system broke down. Only in the eastern part of Argishtikhinili life normalized little by little.
When Achaemenid's power fell under the blow of Alexander Makedonski 's army, the ruler of the country Yervand proclaimed himself the king of Armenia and constructed a capital city in Armavir. The Urartian defensive wall and the buildings were still good and could be used.
During Bagratid's power, a small settlement existed with its own dwellings and agricultural halls, which functioned till the Mongols' invasions, after which the hill was consigned to oblivion.
back to top