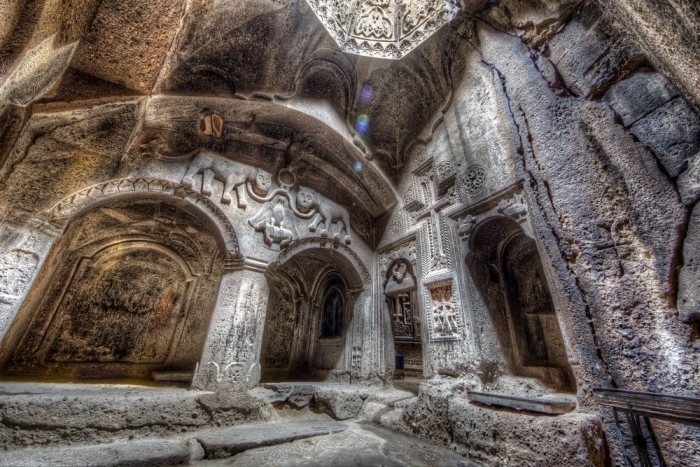 The Monastery Complex is one of the most visited sites in Armenia which is located nearby Garni Temple in Kotayk Region. Visiting both sites in one trip is so common that they are often referred to in unison as Garni-Geghard.
The site of the monastery has been known from pre-Christian times, when people worshiped at springs at the site, especially the one inside one of the churches craved into the rock. As a monastic complex it came forward in the beginning of the 4th century founded by Gregory the Illuminator that was known as "Ayrivank" or "Monastery of Cave."
Though inscriptions are found from the 1160s, the current monastery is considered a product of the 13th century, when the Orbelian king and his generals the Zakarian brothers retook large portions of the Armenian kingdom from the Seljuks, including Geghard monastery.
At its height in the 13th century, Geghard monastery benefited from patronage by princely families and was a pilgrimage site, not least for its reliquaries of the Holy Lance, the spear used by a Roman soldier to pierce the crucified Christ. This reliquary gave the monastery its current name Geghardavank (Monastery of the Spear). Another relic was a wooden fragment said to have been a piece of Noah's Ark.
The monastery was sacked by Mongols and later Timurids, destroyed in 1127, 1679 and 1840 earthquakes, rebuilt in succeeding centuries and serving as a summer residence for succeeding Catholicos.
back to top